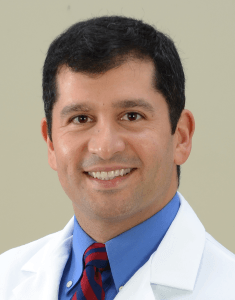 About Dr. Sam Bazrafshan
Dr. Sam Bazrafshan was raised in Knoxville, Tennessee and attended the University of Tennessee where he earned his Bachelors degree in Psychology with a minor in Biochemistry. He then traveled to Miami, Florida on scholarship to attend Barry University School of Podiatric Medicine and Surgery, where he graduated top 5 percentile of his class.
Dr. Bazrafshan completed his residency at Bethesda Health System in Boynton Beach, Florida, focusing on reconstructive and trauma surgery of the foot and ankle. There, he trained extensively in all areas of foot, ankle, and lower leg surgery including elective and traumatic forefoot, hind-foot and ankle reconstruction as well as infection management, diabetic foot reconstruction, and limb salvage.
Specialties:
Arthroscopic Foot & Ankle Surgery
Diabetic Wound Care and Limb Salvage
Peripheral Nerve Surgery
Reconstructive Surgery of the Foot & Ankle
Sports Medicine of the Lower Extremity
Trauma of the Foot and Ankle
Doctor Specialties:
Conservative & Surgical Treatment of the Painful Foot, Ankle, and Lower Leg
Foot and Ankle Reconstructive Surgery
General Podiatry and Diabetic Foot Care
Wounds and Infections of the Lower Extremity
Sports Medicine of the Lower Extremity
Arthroscopic Foot & Ankle Surgery
Peripheral Neuropathy
Peripheral Nerve Surgery
Foot and Ankle Trauma
Physician Biography
Education:
Bachelors in Psychology, University of Tennessee, Knoxville, Tennessee
Doctorate, Barry University School of Podiatric Medicine and Surgery, Miami, Florida
Surgical Training:
Residency: Bethesda Memorial Hospital, Boynton Beach, Florida
Hospital Affiliations:
Hamilton Medical Center
Erlanger Hospital: Chattanooga, Tennessee
Partridge Hospital
Memorial Hospital
N. Georgia Surgery Center
Professional Memberships:
Member, American Podiatric Medical Association
Member, Tennessee Podiatric Medical Association
Member, American College of Foot and Ankle Surgeons
Member, American Academy of Podiatric Practice Management
Member, Cystic Fibrosis Foundation