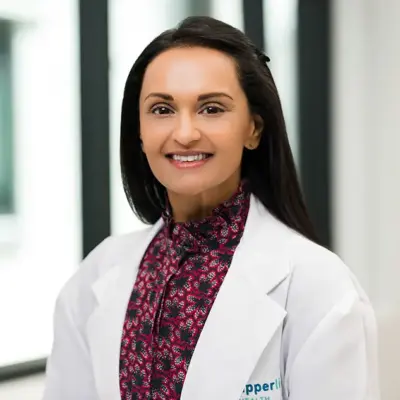 Locations
1240 Highway 54 W
Building 300, Suite 312
Fayetteville, Georgia 30214
Make Appointment
About Dr. Pinecca Patel
Pinecca Patel, DPM is a board-certified foot and ankle surgeon with extensive experience treating complex open and closed fractures, soft tissue injuries involving the lower leg, ankle and foot, cartilage repair, ligament reconstruction, tendon repair and arthritis. Her experience spans both the pediatric and adult populations with activity expectations ranging from basic personal fitness to professional athletes participating in the NFL, NCAA sports, US gymnastics pre-Olympic development teams and professional dance companies. Her experience serving as team physician for several greater Atlanta high schools, as well as her own participation in marathon races and completion of the Florida Ironman, affords invaluable insight into the psychological, nutritional and physical challenges many athletes face when managing injuries/conditions from conservative to surgical treatment and ultimately return to sport.
Working to improve the health of her local community, students and athletes remains a personal goal. As an annual invited guest lecturer at the Georgia State University, she has educated graduate students on injury prevention and management of injuries from a rehabilitative perspective. She has authored papers and lectured nationally on topics that include minimal incision lateral ankle ligament repair, surgical management of talar fractures, fixation techniques and pearls in surgical management of pilot fractures. On a regional level, she has worked with the Forsyth County Board of Education to decrease on-field athlete mortality by implementing emergency protocols that allow for defibrillators to be available field-side in case of emergencies. She has received multiple letters from students and their families who have directly benefitted from this outreach initiative, describing personal life saving events, highlighting the significance of this effort.
A core facet of Dr. Patel's practice is centered around enabling patients and their families to be active in their care. She has created educational videos and designed diagrams to explain complex conditions in an easy-to understand format that patients may utilize as a reference resource after appointments to facilitate well informed decisions that align with the patient's outcome goals.
Her primary goal is to provide a high level of foot and ankle surgical service to the community through patient care, mentorship and community involvement.