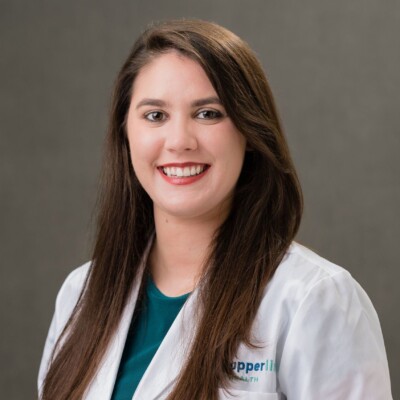 About Dr. Mallory Kirkland
Mallory A. Kirkland, DPM, born and raised in Alabama, is a podiatric surgeon at the Upperline Health clinics located in Hoover and HWY 280. Dr. Kirkland specializes in the treatment of bunions, calluses, fungal nails, hammertoes, and plantar fasciitis. Additionally, she has a special interest in reconstructive forefoot surgeries, flatfoot correction, treatment for heel pain, and diabetic foot care.
Dr. Kirkland earned her undergraduate degree at Maryville College majoring in biological sciences with a minor in mathematics. She then completed her doctorate at Temple University School of Podiatric Medicine in Philadelphia, Pennsylvania.  After earning her Doctor of Podiatric Medicine, Dr. Kirkland completed a 3-year comprehensive forefoot and rearfoot podiatric surgical residency at Ascension St Vincent Hospital in Indianapolis, Indiana.
Dr. Kirkland is an active member of the American Podiatric Medical Association, American Society of Podiatric Surgeons, American Association for Women Podiatrists, and the American College of Foot and Ankle Pediatrics. She performs surgeries at Ascension St. Vincent's One Nineteen Surgery Center of Birmingham.
In her spare time, Dr. Kirkland enjoys spending time with her family, playing golf, reading, and attending Alabama football games.