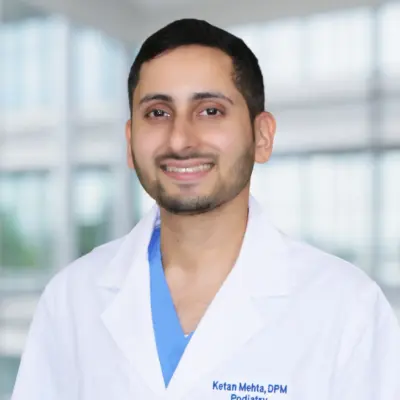 About Dr. Ketan Mehta
Dr. Ketan Mehta was born in Southern California. He attended the University of California, Riverside and received a degree in Biological Sciences in 2013. He then went on to receive his doctorate in Podiatric Medicine at Barry University in Miami Shores, Florida. He completed his residency at Palmetto General Hospital in Miami, Florida where he received extensive training in all aspects of the lower extremity including wound care, elective and traumatic surgery. Dr. Mehta was also named chief resident in his final year of residency.
Dr. Mehta takes pride in providing a well-rounded approach to patient care. He believes strongly in listening to each patient and acknowledging their needs to construct the most appropriate treatment plan. He is qualified to provide both conservative and surgical treatment options for all foot and ankle conditions.
In his free time Dr. Mehta enjoys spending time in nature, attending live music events, visiting friends and family, and discovering all that life has to offer. He is looking forward to growing a presence in the community is excited and eager to provide you with the care you deserve.
Undergraduate:
University of California, Riverside – B.S
Podiatry school:
Barry University School of Podiatric Medicine, Miami Shores – D.P.M.
Residency:
Palmetto General Hospital, Hialeah Florida – Chief Resident
Hospital / Surgical affiliations: Pending
Professional Memberships:
American Podiatric Medical Association