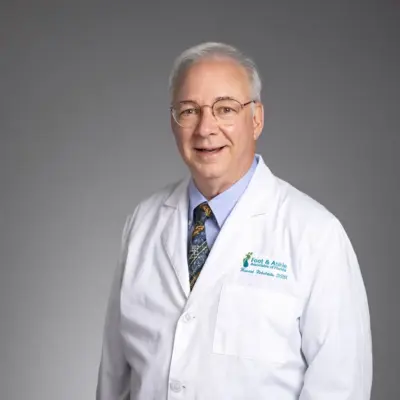 Howard Finkelstein
, DPM, FACFAS
About Dr. Howard Finkelstein
Dr. Howard Finkelstein started his professional career not as a pre-med major but with the goal of becoming an educator. Growing up he had the opportunity to assist his mother who worked in special education. At a young age he also worked in his father's tailor shop learning the art and craft of sewing. Little did he know that both experiences would play a vital role in his future.
While in his second year of college, a biology professor had a great deal of influence on him and recommended that he follow a career in the sciences. With this came the suggestion that he volunteer at a large teaching hospital in Miami. It was during these volunteer rotations at the hospital, and exposure to the various facets of medicine, that he decided to pursue a career in physical therapy. He graduated with a degree in physical therapy from Florida International University.
During his employment as a physical therapist, Dr. Finkelstein began to fully appreciate the miracle of the human body and what it is capable of. The profession and experience of working with his patients in rehabilitation only proved to reinforce that belief. It was while working as a physical therapist, that Dr. Finkelstein discovered the practice of podiatric medicine. Once again, he was influenced by a mentor, a podiatric physician, who invited him to his office to observe his practice. This is when Dr. Finkelstein felt that he had found his final career destination. He graduated from the Illinois College of Podiatric Medicine in Chicago with his doctorate in podiatric medicine. He then completed a residency at Florida Hospital East Orlando.
For the past 30 years, Dr. Howard Finkelstein has had the privilege of treating patients in our community. He gets to know them, learn from them, and help them to get healthy as quickly and safely as possible. That is not only his personal goal, but the goal of Foot & Ankle Associates of Florida as well.
Dr. Finkelstein is affiliated with the Florida Hospital Health Care System (all locations), and belongs to the American College of Foot and Ankle Surgeons and the American Board of Podiatric Surgery. He is board certified and has been re-certified every ten years. Dr. Finkelstein is trained in all aspects of foot and ankle care, ranging from conservative in-office treatments, to surgery. He has also remained current with his licensure in physical therapy.
Professional affiliations for Dr. Finkelstein include the State of Florida and Illinois Department of Professional Regulation, DPM and the State of Florida Department of Professional Regulation, RPT. Additionally, he is a Fellow of the American College of Foot and Ankle Surgeons. He has a current committee appointment with the Podiatric Residency Review Board (and has been a member of the committee since 1989). Previous committee appointments include: Florida Hospital Wound Care Clinic, Florida Podiatric Medical Association Physical Therapy Practice Guidelines, and Secretary of Florida Hospital's Department of Podiatric Medicine.
Dr. Howard Finkelstein continues to be involved with the teaching staff and contributes to both the Podiatric Surgery and Family Practice Residency Training Programs at Florida Hospital. He has been Externship Director for Podiatry at Florida Hospital for the past 25 years. Dr. Finkelstein has been appointed as an adjunct volunteer faculty at several schools of podiatric medicine. He has also served in the CME faculty development for Florida Hospital Medical Center from 2004 to 2006.
When not in the office, Dr. Finkelstein enjoys spending time with his family. A former marathon runner, he remains active today by biking, walking, and running. He loves to read and still enjoys watching baseball, cheering for his favorite team, the New York Yankees and even rooting for the Chicago Cubs (who he believes will one day take it all the way and win the World's Series).