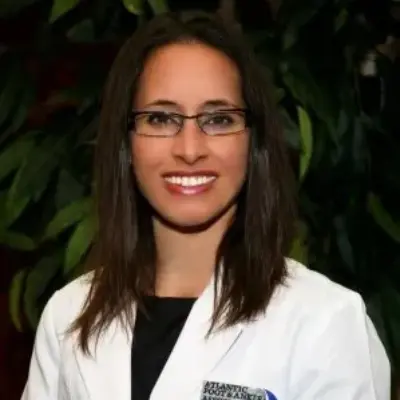 Hilaree Milliron
, DPM, FACFAS
About Dr. Hilaree Milliron
Hilaree B. Milliron is a Board Certified Podiatric surgeon who enjoys treating all ailments of the foot and ankle.  She received her Bachelor's degree in Chemistry/Biochemistry at the University of West Florida in Pensacola, FL in 2002, followed by a doctorate of Podiatric Medicine from Kent State University College of Podiatric Medicine in Cleveland, OH in 2008.
Hilaree then completed a three-year residency in Podiatric Medicine and Surgery at the University of Florida & Shands Jacksonville Medical Center in Jacksonville, FL in 2011.
Dr. Milliron is a published author in the 4th edition of McGlamry's Textbook of Foot and Ankle Surgery.  She is also a peer reviewer for the Journal of the Foot and Ankle Surgery and lectures regularly on foot and ankle topics for civic groups.
Outside the office, Hilaree and her husband, Mike, enjoy spending time with their three dachshunds, running, playing golf, target shooting, surfing, playing basketball, and mountain biking.  Hilaree also creates handmade beaded jewelry, paints, and plays the drums in her spare time.
Professional Interests:
Biomechanics of the Foot and Ankle
Orthotics and Gait Analyses
Sports Injuries of the Foot and Ankle
Ingrown Toenails and Other Toenail Issues
Reconstructive Foot and Ankle Surgery
Pediatric Conditions and Gait Abnormalities
Trauma of the Foot and Ankle
Sprains and Fractures
Infections of the Foot and Ankle
Diabetic Foot Care
Undergraduate Degree:
University of West Florida – Pensacola, FL  Chemistry/Biochemistry
Medical Degree:
Kent State University College of Podiatric Medicine – Cleveland, OH
Podiatric Medicine and Surgery
Residency Training:
University of Florida & Shands Jacksonville – Jacksonville, FL
Podiatric Medicine and Surgery
Honors and Distinctions:     
Kent State University College of Podiatric Medicine: Valedictorian 2008
Kent State University College of Podiatric Medicine Merit Scholarship for Academic Excellence 2004-2008
Kent State University College of Podiatric Medicine Orthotics award 2008
Pi Delta National Podiatric Honor Society
National Dean's List award recipient