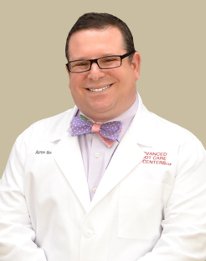 About Dr. Aaron Solomon
Dr. Solomon has been part of the Advanced Foot Care Centers family since 2003 and now part of the Village Podiatry Centers family since the two practices merged in fall of 2015.
He was born in Chicago and his family moved to the Atlanta area in 1987. He attended Georgia Southern University, graduating with a Bachelors of Science in Biology. After finishing his undergraduate work, Dr. Solomon enrolled at the Temple University School of Podiatric Medicine in Philadelphia, where he received his Doctor of Podiatric Medicine degree in 1999. His residency training in podiatric medicine and surgery included two years at Montgomery Hospital and Medical Center in Norristown, Pennsylvania, and an additional year of surgical training at the Ambulatory Foot and Leg Surgical Residency Program in Atlanta. After residency, he practiced for a short time in the Atlanta area.
Dr. Solomon is board certified in foot surgery and reconstructive rearfoot and ankle surgery by the American Board of Foot and Ankle Surgery and is a Fellow as well as a member of the board of directors of the American Society of Podiatric Surgery. He is also a Fellow of the American College of Foot and Ankle Surgeons and is a member of the American Podiatric Medical Association and Georgia Podiatric Medical Association. Dr. Solomon is on staff at many medical centers in both Chattanooga and North Georgia. Chattanooga affiliations include Park Ridge and Park Ridge East Hospital, Memorial and Memorial Hinson Hospital, as well as Erlanger Hospital. In North Georgia Dr. Solomon is on staff at Hamilton Medical Center in Dalton and at the North Georgia Foot and Ankle Surgery Center.
As a guest lecturer for many events, Dr. Solomon helps to educate those in the medical community on the care of patients with problems of both the foot and ankle. Most importantly he has had the greatest satisfaction working with and caring for his many patients. He greatly enjoys the relationships that he has forged with his patients, discussing their foot problems and providing care and treatment as well as educating patients on how they can maintain good foot health. He always jokes with his patients that he is no fun because he is constantly telling them to stop smoking, wear reasonable shoes, and watch what they eat. But he is passionate about helping to decrease his patients' pain and improve their quality of life.
Dr. Solomon lives in North Georgia along with wife Sara, daughters Zoë and Nora, and a 70 pound golden lab named Dusty, who thinks she is a lap dog. He greatly enjoys the scenic beauty and southern hospitality of the Chattanooga and North Georgia area. The Solomon family takes every opportunity to enjoy Chattanooga: going to Lookouts games, hiking at Cloudland canyon, and often chasing Zoë and Nora around the Creative Discovery Museum! They have found no shortage of fun things to do in and around Chattanooga. Among his many interests, he also enjoys cooking and trying to play the guitar and piano.
Dr. Solomon considers it a privilege to provide foot and ankle care to his many patients in the Tennessee valley, and looks forward to many years of continued service ahead.
Specialties:
Diabetic Limb Salvage
Reconstructive Surgery of the Foot and Ankle
Sports Injuries
Trauma
Wound Care
Education
Bachelors of Science in Biology, Georgia Southern University
Doctor of Pediatric Medicine, Temple University School of Pediatric Medicine
Residency, Montgomery Hospital and Medical Center, Morristown, Pennsylvania
Ambulatory Foot and Leg Surgical Residency Program, Atlanta, Georgia
Certifications
Board Certified in Foot Surgery, American Board of Foot and Ankle Surgery
Board Certified in Reconstructive Rearfoot and Ankle Surgery, American Board of Foot and Ankle Surgery
Hospital and Surgery Center Affiliations
Park Ridge Hospital, Chattanooga, TN
Park Ridge East Hospital, Chattanooga, TN
Memorial and Memorial Hinson Hospital, Chattanooga, TN
Erlanger Hospital, Chattanooga, TN
Hamilton Medical Center, Dalton, GA
North Georgia Foot and Ankle Surgery Center
Professional Memberships
Partner, North Georgia Foot and Ankle Surgery Center
Diplomate, American Board of Foot and Ankle Surgeons
Board of Directors, American Society of Podiatric Surgeons