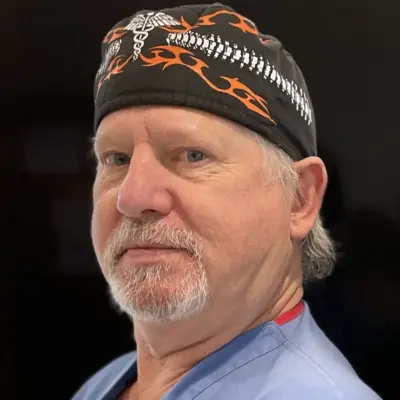 About Dr. Douglas Redd
Dr. Douglas Redd, a Vascular Interventional Radiologist and an Atlanta native, is the owner and founder of the Center for Vascular Intervention. Educated at Emory University, he completed his residency in Diagnostic Radiology at Emory and fellowship in Angiography and Interventional Radiology at the University of Pennsylvania.
Influenced by Andreas Gruentzig, the inventor of balloon angioplasty. Dr. Redd spent much of his career in academic, research-based medicine, holding assistant professorships at UPenn and Emory. He left the hospital system in 2005 to establish an outpatient vascular interventional medicine practice and has focused on the minimally invasive treatment of Peripheral Arterial Disease (PAD) for most of the past decade.
The Center for Vascular Intervention was established in response to the epidemic of PAD which is prevalent in metro-Atlanta and North Georgia. By performing highly advanced endovascular procedures below the knee and within the foot, Dr. Redd has become an expert in limb salvage and has prevented numerous patients from undergoing limb amputations. His vision of multi-specialty, holistic care for the treatment of Peripheral Vascular Disease is what makes the Center for Vascular Intervention uniquely positioned to offer patients with the critical limb ischemia complex endovascular treatment options for managing PAD with the goal of amputation prevention.